Overview:
Capability-based
Financial Instruments
---
Mark S. Miller, ERights.org
Chip Morningstar, Communities.com
Bill Frantz, Communities.com
Abstract
Every novel cooperative arrangement of mutually suspicious parties interacting electronically -- every smart contract -- effectively requires a new cryptographic protocol. However, if every new contract requires new cryptographic protocol design, our dreams of cryptographically enabled electronic commerce would be unreachable. Cryptographic protocol design is too hard and expensive, given our unlimited need for new contracts.
Just as the digital logic gate abstraction allows digital circuit designers to create large analog circuits without doing analog circuit design, we present cryptographic capabilities as an abstraction allowing a similar economy of engineering effort in creating smart contracts. We explain the E system, which embodies these principles, and show a covered-call-option as a smart contract written in a simple security formalism independent of cryptography, but automatically implemented as a cryptographic protocol coordinating five mutually suspicious parties.
Introduction
From simple abstractions, great power may bloom. Sometimes, this power comes not from wholly new ideas, but rather from the emergent insights that arise when bits of common wisdom from disjoint communities come together. For example, Shannon's formalization of the notion of information [Shannon48] built a bridge between the electrical engineer's intuitions about signals, encodings, and noise, and the mechanical engineer's intuitions about temperature and thermodynamic efficiency.
This paper takes a first step in unifying the work of the object programming community, the capability-based secure operating systems community, and the financial cryptography community. Historically:
objects have been strong on abstraction and composition,

operating systems have been strong on providing a shared platform in which disparate processes can interact without being able to damage one another, even if they contain malicious code, and

financial cryptography has been strong on cooperative protocols allowing mutually suspicious parties to trade a diversity of rights in the absence of a mutually-trusted platform.
Unfortunately, each has been weak in the areas where the other two are strong. By bridging the intuitions of these communities, we can engineer systems with the strengths of all three. The bridge described in this paper is based on a joint appreciation, across all three communities, of a common abstraction, illustrated by the Granovetter Diagram shown on the right. The sociologist Mark Granovetter originally developed diagrams of this type to illustrate how the topology of interpersonal relationships changes over time, as people introduce people they know to each other [Granovetter73]. Though Granovetter devised this diagram in the context of human relations, we have found it to be a powerful notation for understanding the relations between computational objects in a network.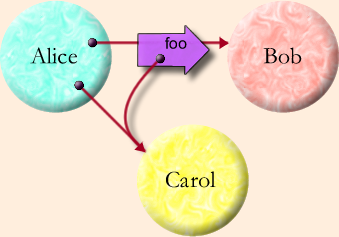 We present this abstraction from six perspectives:
We are building the E system [E] to unify these perspectives. E is a simple, secure, distributed, pure-object, persistent programming language. E blends the lambda calculus, capability security, and modern cryptography. In integrating these diverse features, E brings the diverse virtues of the Granovetter Operator to life. Throughout the paper we present our examples in E, explaining the language briefly as needed.
Since we can only touch upon each perspective briefly within the space allowed for this paper, we have chosen breadth over depth, so that even a brief treatment can unify the perspectives. Hopefully our references and future writings will provide the needed depth as well.
Six Perspectives